Vessel-mounted current profiling - showing that it works
Using vessel-mounted current profilers is a fast and effective way of measuring currents during dredging or other marine operations. But how do they stack up in a direct comparison with fixed-point measurements? Nortek and its clients were recently able to find out.
The ability to gather data from acoustic Doppler current profilers (ADCPs) has been renewed with the new Nortek Signature VM ADCP. It opens up the possibility of assessing current patterns across multiple depths over a wide swathe of ocean in a relatively short time, in a more simple way than before – and resulting in better data.

These vessel-mounted ADCPs have undergone rigorous ocean testing at the development stage, but a comparison with longer-established technology in an operational setting helps to confirm what they are capable of.

So, when a survey vessel equipped with Nortek's Signature VM 500 kHz profiler was working in the Belgian North Sea close to two buoy-mounted current profilers, Nortek arranged to carry out comparative tests.

The Signature VM was mounted on the state-of-the-art survey vessel Geo Focus, owned by Dutch hydrographic surveying firm Geo Plus. The vessel was contracted to Van Oord, another Dutch firm, which needed to study sea conditions affecting a new offshore wind farm it was building.
On 7 April 2018, a series of current measurements was carried out using the Nortek Signature VM when it was adjacent to each of the two buoys, which were located around 4 km apart. The Signature VM data was then compared with the current measurements made by the Nortek Aquadopp Profiler 400 kHz current profilers attached to each of the buoys.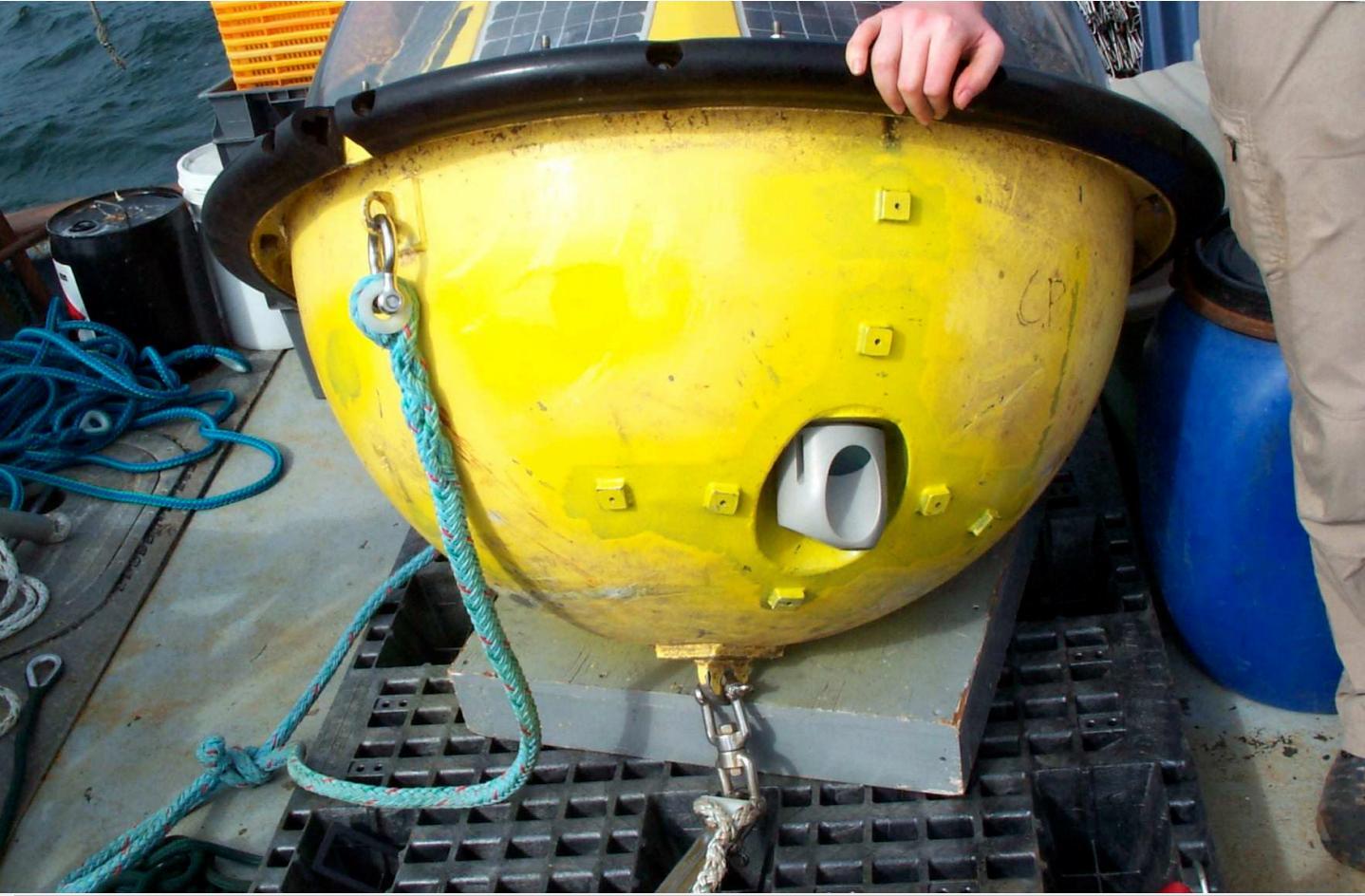 Close data correlation

The results have been published by Nortek, Van Oord and Geo Plus in a report, which can be accessed here. They show that the Signature VM was able to produce readings that correlate closely with those from the buoy-mounted profilers, as indicated by the tables in figures 1 and 2, taken from the report.
---
| | | |
| --- | --- | --- |
| Northern buoy | Mean current speed | Mean direction |
| Signature VM 1 | 0.70 m/s | 40.96° |
| Signature VM 2 | 0.75 m/s | 38.17° |
| Buoy-mounted Aquadopp Profiler | 0.74 m/s | 39.35° |
Fig. 1. Two sets of results recorded by the Signature VM around 6:00 a.m. close to the northern buoy, followed by one taken on the buoy at the same time.

---
| | | |
| --- | --- | --- |
| Southern buoy | Mean current speed | Mean direction |
| Signature VM 1 | 0.57 m/s | 220.45° |
| Signature VM 2 | 0.56 m/s | 219.20° |
| Signature VM 3 | 0.54 m/s | 217.74° |
| Buoy-mounted Aquadopp Profiler | 0.61 m/s | 214.80° |
Fig. 2. Three sets of results from the Signature VM around 12:00 noon close to the southern buoy, followed by one from the buoy at the same time.

"The tests went well, and our clients told us they were happy with the outcome," says Herman Huitema, Nortek's Product Manager.

The report concluded that the recorded differences were minimal and well within the tolerances that may be expected when measuring from moving platforms. That the vessel and data was close to but not recorded at exactly the same time and position as the buoys also helps account for any small variations.

"Sea conditions were calm, which was important for an accurate comparison. In more unsettled seas, the buoys would move around quite a bit, which would affect their readings, even if a survey vessel may not be so badly affected," Huitema adds.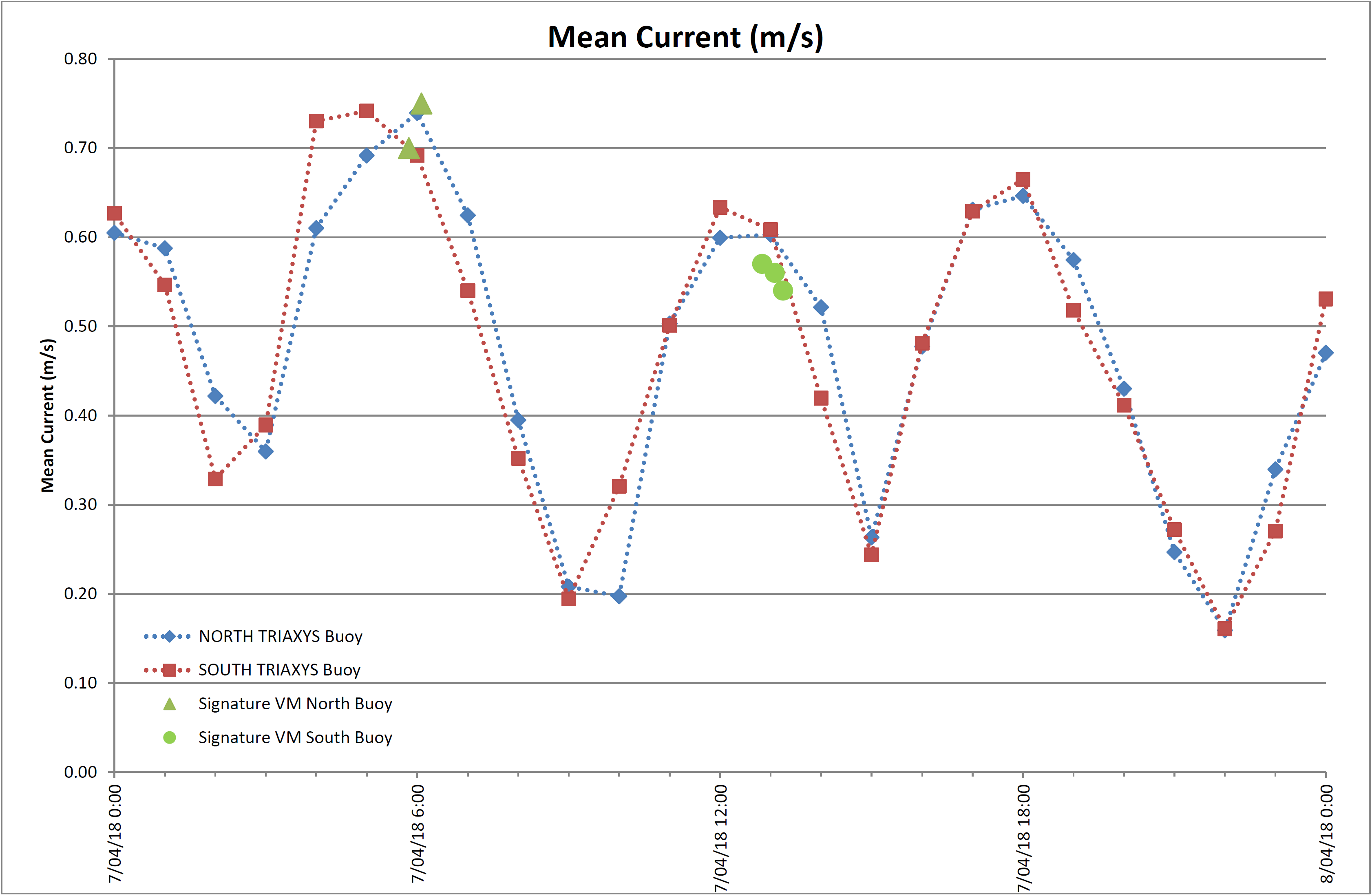 Global deployments

The Signature VM has operated successfully in a wide range of conditions since its launch in 2017. Coastal research, port and harbor mapping, studies of tidal currents and sediment transport studies are among the instrument's main uses.

It is fitted with five beams for current profiling throughout the water column and depth measurements. It also has outstanding bottom-track ability.

See video: Understanding vessel-mounted current survey data with Signature VM Review

Demand looks set to expand. For example, current profilers are a vital tool for developers such as Van Oord in the fast-expanding offshore wind market. They need to know as much as possible about current conditions across a wide swathe of ocean to ensure that the scores of turbines that make up a wind farm are positioned correctly.

"A buoy-mounted profiler is designed to measure the current at a specific place for weeks, if not longer. But if you need flexibility for operational support or need find out more about currents in the wider area then a moving profiler is the best option," explains Huitema.

The Signature VM is also designed to be convenient and simple to use.

"The good thing is that it doesn't require much attention – you just switch it on at the start of the day and off you go," he adds.

To read the comparative report, please click here.
See the video: Simplifying vessel-mounted current measurement with Signature VM Coastal