The project was a collaboration between the University of New South Wales Canberra at the Australian Defence Force Academy, the University of Melbourne and New Zealand's ASR Ltd. A lagoon about 1 km wide on the western side of the island is bounded by a coral reef about 6 km long. The photo shows a view along the reef looking south toward Mt Gower (elev. 875 m) in the background. The measurement program covered the period from November 26 to December 19, 2004 with the aim of measuring the relative contributions of wave, wind and tidally driven flows in the exchange of water between the lagoon and offshore.
Read the latest news on Nortek product innovation and exciting features.

The AWAC was deployed in 10 m water depth on the forereef where the bottom was extremely rough (see photo). The maximum significant wave height recorded was about 2.2 m. In the channels, the Aquadopps were deployed on a much smoother bottom consisting of sand and coral rubble. The Vectors were deployed on the reef crest where the topography was moderately rough (see photo) and the instruments were subject to breaking waves and strong wave-driven mean flows.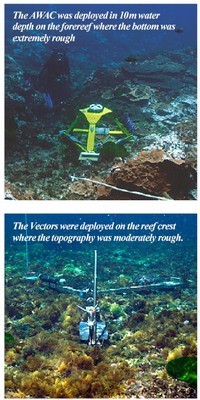 Successful outcome
The current and wave measurement program was very successful, with 100% data return from all of the Nortek instruments. The data clearly showed the importance of wave forcing in the mean flows with inflow over the reef crest and outflow through the channels at all stages of the tide. The data were (assumedly) used in comparison with numerical simulations to model larval dispersal. These model results will then be used to compare with results from a continuing biological sampling program addressing the question of self-recruitment versus long-distance recruitment of additional organisms on reefs.

This article appears by courtesy of Graham Symonds (University of New South Wales at the Australian Defence Force Academy), Stephen Swearer (University of Melbourne) and Kerry Black (ASR Ltd, New Zealand).