During storm-force winds in 2012, measurement buoys detected waves averaging 14 m (45 ft) in height and reaching a maximum of more than 25 m (82 ft).

"Recent measurements and modelling studies have confirmed that the wave power resource off the Outer Hebrides is among the best on the UK coast," says Mr. Arne Vögler, Senior Research Engineer at the University of the Highlands and Islands (UHI) in Scotland.

"Based on average wave power of 75 kW/m as measured over a one-year period in 2011/12 and a 200 km coastline from the Butt of Lewis to Barra, the total mean power dissipated in our nearshore environment would be 15 GW – equivalent to 12 nuclear power plants such as Torness," says Vögler.

He adds that good progress has been made by marine energy converter companies to overcome the challenge of developing technology able to stand up to the most extreme conditions. Now that wave power devices have proven their ability to survive extreme conditions, the focus has shifted towards increased energy production and reduction of the cost of electricity produced.
Measuring currents and waves to define technology requirements
As a step towards harnessing this wave power, Mr. Vögler and his team at Lews Castle College of the UHI have commenced a monitoring program in which they are using multiple Nortek acoustic instruments to measure currents and waves at the Butt of Lewis and other areas of interest along the coastline.

Read the latest news on Nortek product innovation and exciting features.

Prior to the installation of instruments and radars, Mr. Vögler said that he was "very eager to start using the new equipment to improve the understanding of wave and current distribution and processes across the site," since this will determine the requirements for future technology capable of harnessing this energy potential at competitive costs.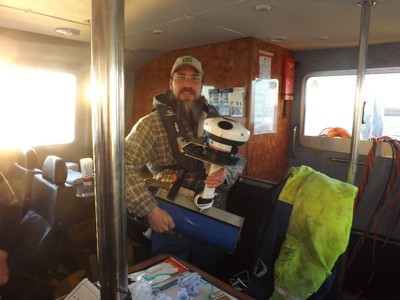 Tried and trusted solutions for current and wave measurements
Among the Nortek instruments chosen by UHI are the AWAC and the Signature series ADCPs. The AWAC is Nortek's tried and trusted, turnkey solution for online current and wave measurements.

The Signature is Nortek's range of instruments designed around the patented AD2CP platform, which have very flexible measurement capabilities. The sampling rate, the flexibility and the ability to measure velocities in the vertical make the Signature1000/500 a good choice for quantifying turbulence and energy levels throughout the water column.

Apart from acoustic instruments, UHI will also use Nortek SeaDarQ radars to monitor waves. "The use of radar for site selection for renewable energy projects is new but has great promise. The Nortek SeaDarQ is a tool to observe larger areas in combination with local measurements using our line of acoustic products," says Mr. Sicco Kamminga, Director at Nortek in the Netherlands.