Nortek provides practical, technical training in ocean technology for academics across the world
For academics doing research with ocean technology instrumentation, not all skills can be developed in the lab. Geological Survey of Japan's Dr Mamoru Tanaka joined Nortek Japan for two months to receive practical training in ocean technology and upskill in the principles and applications of ADCPs and ADVs. He is one of many academics that have been given practical training by Nortek to successfully deploy acoustic instrumentation for ocean research.
Dr Mamoru Tanaka, a post-doc with the Geological Survey of Japan, National Institute of Advanced Industrial Science and Technology (AIST), is currently developing methodologies to estimate deep-sea turbulence for environmental impact assessments. To develop the knowledge and skills necessary to achieve his goal, Tanaka recently joined Nortek Japan's office in Tokyo for a two-month, hands-on training with Nortek instruments.

An opportunity to develop unique skills for ocean technology instrumentation
The training, made possible by an "On-the-Job Training" program offered by AIST Innovation School, gave Tanaka experiences and skills that cannot be found in a typical academic environment.
"The reason I chose to train with Nortek Japan was to learn about principles and applications of ADCPs (Acoustic Doppler Current Profilers) and ADVs (Acoustic Doppler Velocimeters) more deeply than we can in university," says Tanaka.
He has previously done research on marine biophysical interactions using Nortek instrumentation, and this research revealed that turbulence can impact zooplankton's diel migration patterns.
Mr Kohei Honda of Nortek Japan (left) worked closely with Dr Tanaka during his training.
During his training, Tanaka worked closely with Dr Yusaku Kokubu, Director of Nortek Japan, and Nortek's Sales Engineer Mr Kohei Honda to develop his skillset. Among his experiences, Tanaka rates creating Japanese user manuals as particularly beneficial.
"The Japanese manuals are not just translations of the original manuals written in English. They must be organized to suit local customers in Japan," Tanaka says. "I had to understand crucial aspects of the instruments – for example, what the velocity phase wrapping is, when it occurs and how users can avoid it," Tanaka explains. Combining his previous experience using Nortek instruments with his newly developing knowledge, Tanaka produced six user manuals for Japanese customers.
Equally important, Tanaka also gained some hands-on experience with the instruments themselves when, under the supervision of Nortek staff, he serviced five Acoustic Doppler Current Profilers.
"The first time, I opened the head end and observed the circuit board of the instruments. I learned how the tilt sensor, which looks like a liquid-filled capsule, and the compass board work to calculate the attitude of the instrument. I also learned that the arrangement of all the parts on the circuit boards is designed to reduce electrical noise," explains Tanaka.
Dr Tanaka working on a Nortek Aquadopp 6000 m during his on-the-job training.
Putting practical skills to work for further deep-sea turbulence research
Tanaka is now back at AIST working on his deep-sea turbulence project.
Tanaka and his colleagues propose using Acoustic Doppler Current Profilers and Acoustic Doppler Velocimeters to parameterize turbulence near the seabed. The challenge they face is that since the instruments track particles suspended in the water, the deep sea's relatively clear and still waters will create noisier data.
"We cannot avoid the problem of noise by just filtering out the data," Tanaka explains. "We need some scheme or technique to accurately estimate turbulent kinetic energy dissipation rates even in clear waters."
The knowledge, skills and experience Tanaka gained during his training at Nortek will help him develop novel turbulence parameterization techniques necessary for acquiring the best possible deep-sea turbulence measurements.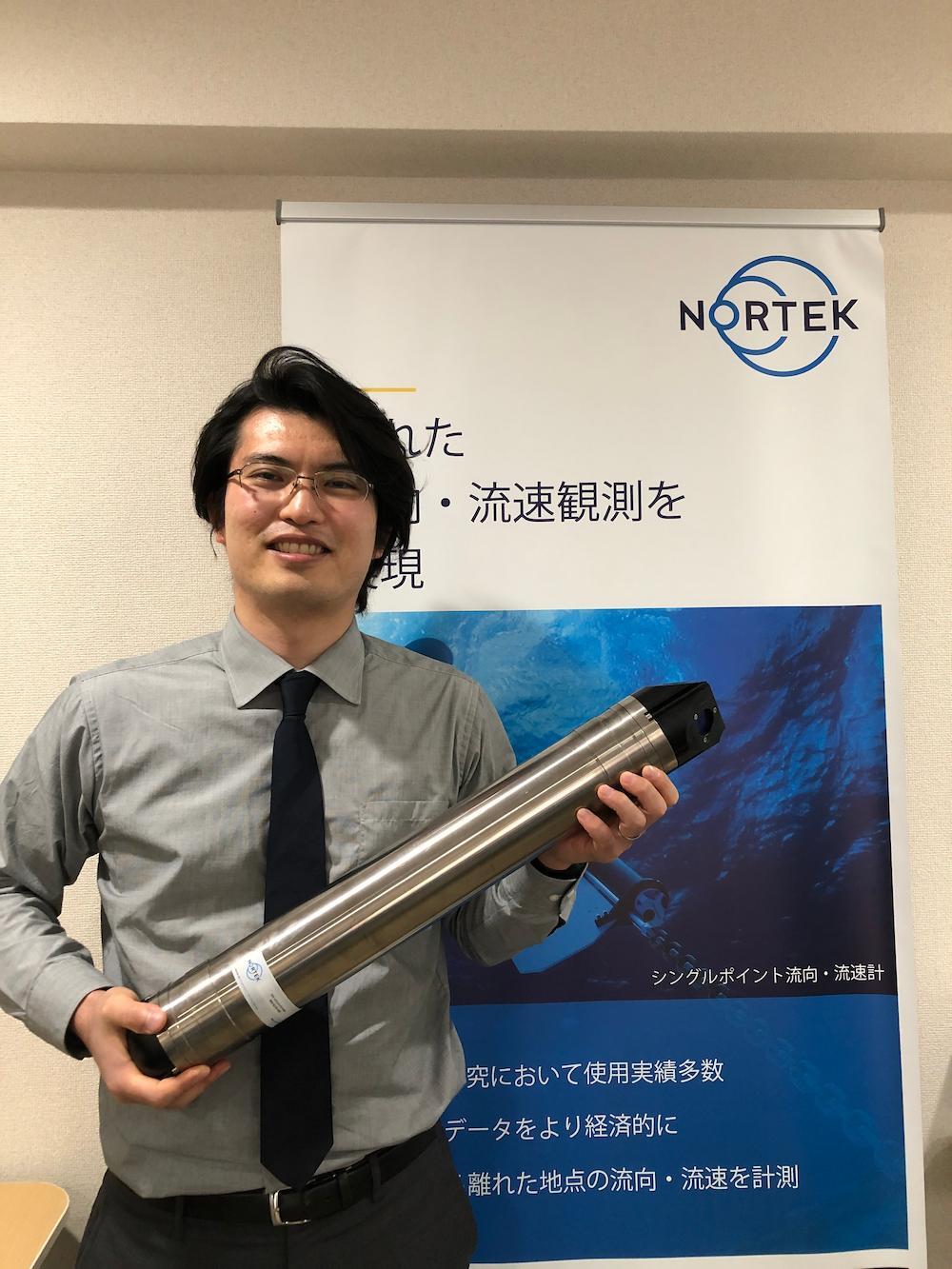 Dr Tanaka's on-the-job training is helping him develop methods to parameterize deep-sea turbulence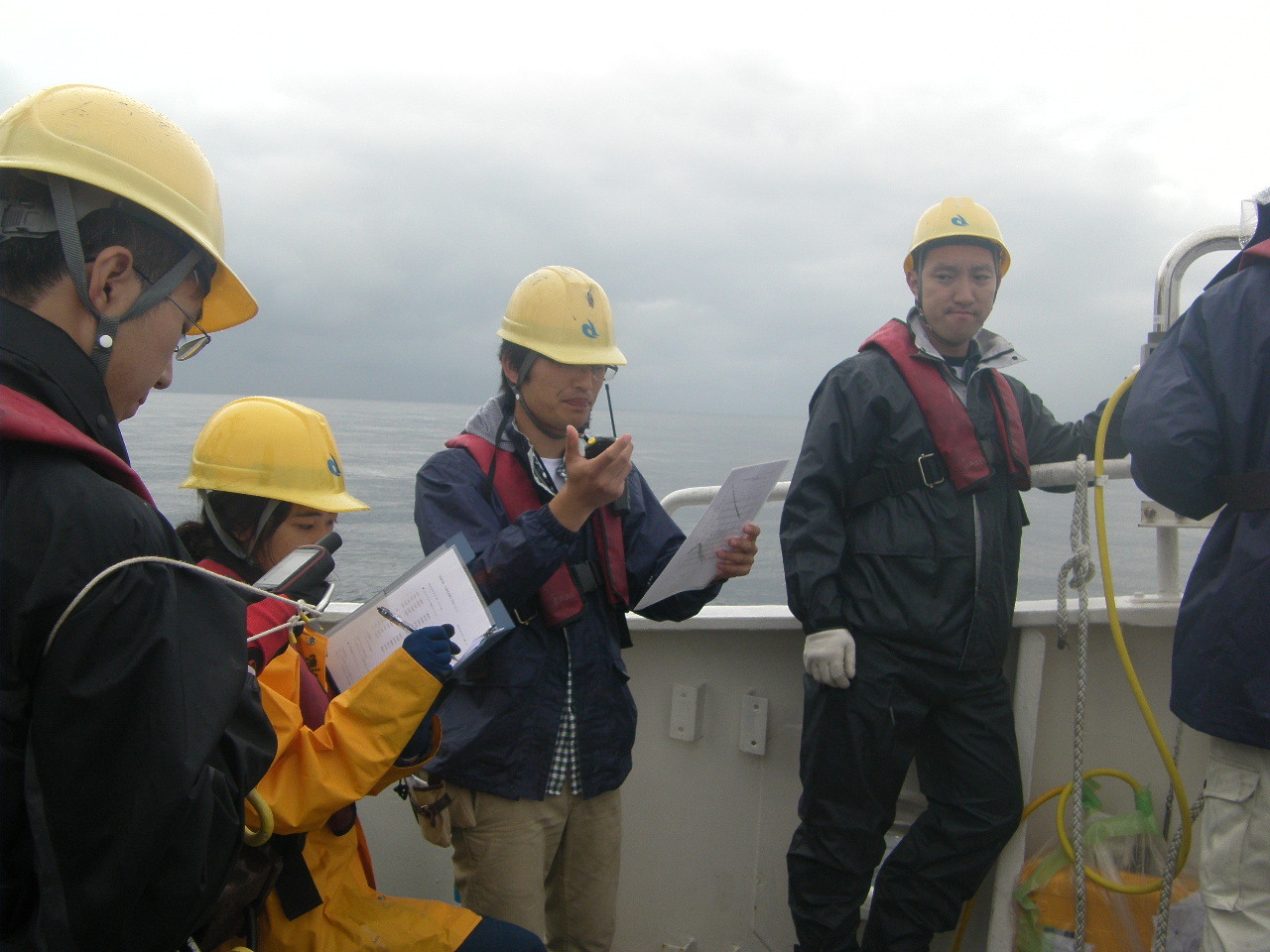 Dr Tanaka (center) has previously used an ADCP and a velocimeter to study fluid dynamics in the ocean on a cabled observatory system at Oshima Island, Japan.