New 250 kHz version of Signature VM Coastal offers accurate current profiling to 200 meters
Nortek has launched the Signature VM Coastal in a 250 kHz version. This completes the company's suite of vessel-mounted acoustic Doppler current profilers (ADCPs) designed to measure coastal movements throughout the epipelagic zone.
The 250 kHz Signature VM Coastal current profiler can measure with high precision to a depth of 200 m, complementing the 1,000 kHz and 500 kHz versions of the instrument, which operate at depths of up to 30 m and 70 m respectively. Between them, these three instruments provide comprehensive coverage for coastal waters.
The 200 m depth range makes the vessel-mounted 250 kHz instrument ideal for measuring current strength and direction up to the bottom section of the epipelagic or neritic zone, which is the ocean layer that sunlight can penetrate and where most marine life is to be found. This range also makes it a useful tool for industries such as the offshore renewable sector, which is heading out to deeper water.
Vessel-mounted ADCPs with proven performance
The standard version of the Signature250 ADCP is already firmly established for use as a seabed-mounted instrument, so its precision and reliability are well documented. The VM Coastal version gives users the added flexibility and time-saving benefits that come with vessel-mounted current profiling, enhanced by Nortek's advanced and user-friendly instrument design and software.
The 250 kHz version of Signature VM Coastal delivers accurate current profiling to 200 meters.
Lower-frequency instruments normally offer greater range as a trade-off against loss of precision. Because the Signature 250 VM uses the AD2CP platform, it can ping more often, matching the precision of a higher-frequency instrument without the loss of range.
The instrument has four beams operating at 250 kHz, as well as an optional fifth center beam, using a 500 kHz transducer, for use in stationary mode. This center beam can measure features such as wave height and direction, and ice thickness. It has a vertical range of 150 m.
All three versions of the Signature VM Coastal can be installed either on board or over the side of a vessel.
Check out this in-depth guide to learn more about vessel-mounted current profiling.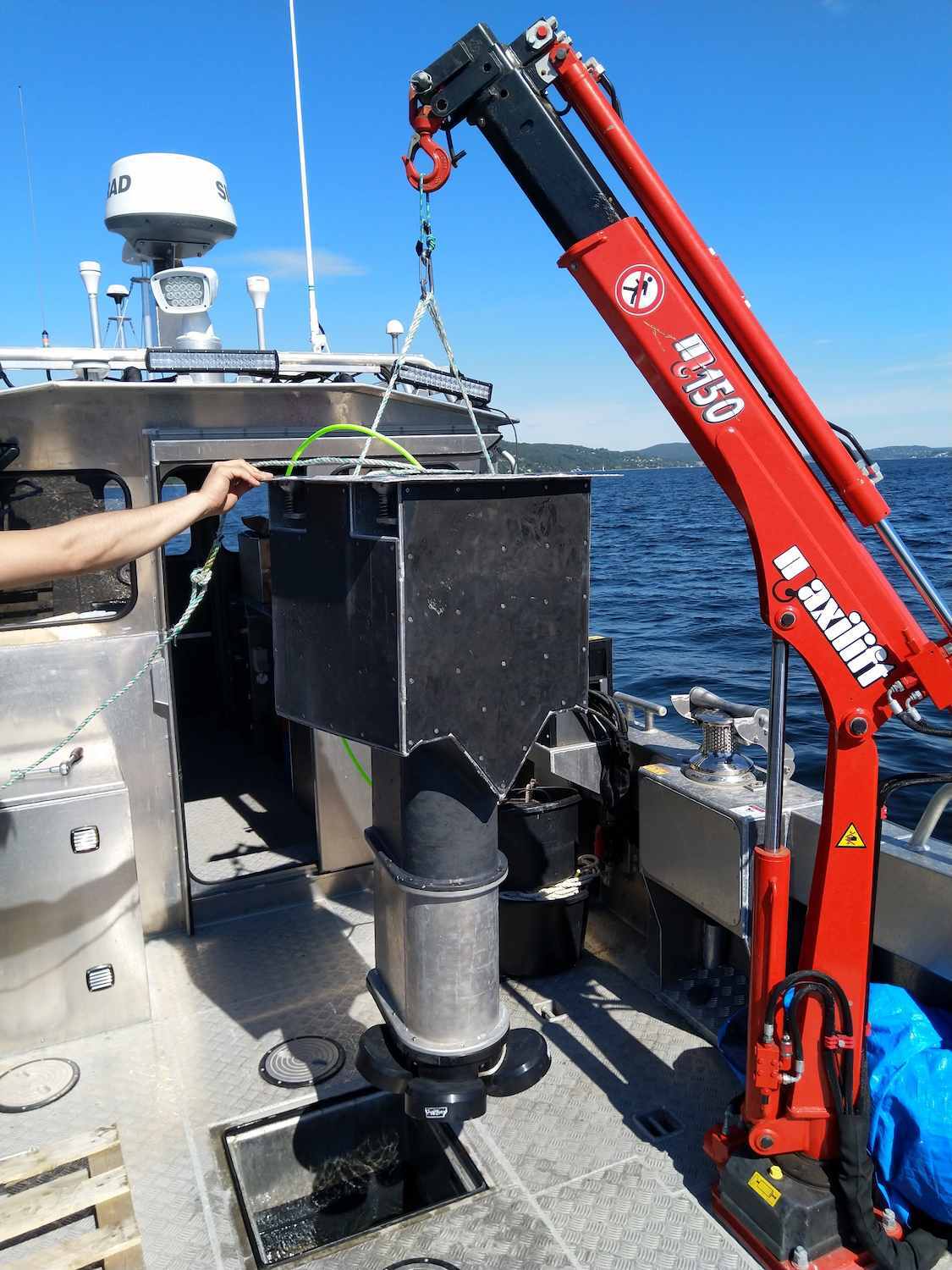 The new Signature VM Coastal ready to be deployed through the moonpool of Nortek's test boat.