Extend your vehicle's range without compromising on size or accuracy
In response to increased demand for subsea vehicles to be smaller and more versatile while retaining their navigational capabilities, Nortek has developed a new generation of Compact Doppler Velocity Logs (DVLs).
Subsea vehicles such as AUVs and ROVs are becoming more compact, efficient and cost-effective, all while capabilities and operational demands are constantly increasing. This presents a challenge: the capabilities of sensors that support the vehicle's abilities need to grow, without requiring more of the vehicle's limited payload. This is true for a variety of subsea operations.
Subsea vehicles have multiple purposes. Some vehicles, often autonomous underwater vehicles (AUVs) or uncrewed surface vessels (USVs), are designed for long-duration data collection missions. Others, like many remotely operated vehicles (ROVs), are intended to perform complex tasks via an operator onshore or on a vessel. Still others are smaller, lower-cost vehicles designed to be deployed in "swarms," working together for efficient task completion. No matter the vehicle type, the tasks required of these vehicles are becoming increasingly demanding.
Taking the physical design of a compact higher-frequency Doppler Velocity Log, the DVL1000, and utilizing new electronics and transducers, Nortek has been able to increase bottom-tracking range from 75 m to 175 m in the new DVL500 Compact.
High-spec DVLs in a small form factor
To meet the need for high-performance DVLs in a small package, Nortek developed new DVLs that use the same form factor of the DVL1000 and DVL500 but offer twice the operational range. The DVL500 Compact and DVL333 Compact are designed to serve high-performance vehicles operating in demanding conditions. A DVL being able to maintain bottom track over a longer range means these vehicles can fly higher in the water column without any loss of position.
The DVL500 Compact has the same form factor as the Nortek DVL1000 (114 × 158 mm) but offers a bottom-track range of 175 m, compared to 80m on the DVL1000. The DVL333 Compact has the same form factor as Nortek's DVL500 (186 × 203 mm) and also has nearly twice the range, with bottom-track increased from 200 m to 375 m. Both instruments are offered in a shallow-water version pressure-rated to 300 m, or a deep-water variant pressure-rated for use at either 4000 m (DVL500 Compact) or 6000 m (DVL333 Compact).
Rory Findlay, DVL Business Development Manager at Nortek, says the original intention when designing the DVL500 Compact was to serve the inspection class market, but soon found more users would benefit from the innovative design.
"It quickly became apparent that the DVL500 Compact could be used for many different applications and in a wide variety of conditions. It has been adopted by work-class ROVs, and we expect it to be used a lot more frequently on AUVs, because using the DVL500 Compact means there is no need to redesign the hull or pressure housing of your vehicle to increase your range," he says.
Watch a webinar on the latest developments in DVL and subsea navigation technology: from high-performance, survey-grade sensors through to a new package designed to enable comprehensive navigation for small ROVs, AUVs and everything in between.
The benefits of a longer-range DVL
Findlay emphasizes the importance of maintaining bottom-track capability and therefore the ability to locate your vehicle throughout the mission. The extended range of the Compact DVL series enables users to take their vehicle through areas of greater depth while flying high in the water column without ever losing position.
"Having bottom track from the vehicle's launch to its arrival at the work site is a significant benefit, because you always have high-quality navigation aiding. You don't have to wait until you've arrived nearer the bottom to get a good lock on the seabed," says Findlay.
Findlay adds that the Compact DVL series is unique in its ability to maintain high accuracy while offering extended range; new technologies enable this lack of trade-off.
The Compact DVL series is ideal for vehicles that carry out high-altitude operations over large depth variations, as well as vehicles diving from the surface that benefit from soonest possible bottom lock upon descent. The ability to achieve bottom lock from a higher altitude enables these vehicles to be less reliant on alternative methods of velocity correction such as water track, or GNSS in the case of USVs.
Current profiling improves operational safety
Both the DVL500 Compact and the DVL333 Compact are capable of current profiling, providing users with major operational safety insights.
AUVs and ROVs are often deployed from a USV. To determine if the conditions are acceptable for launch and recovery, the speed and direction of currents in the area must be known. By using a DVL on the surface vessel, operators can determine whether they are launching vehicles into safe conditions, avoiding costly damage, unsuccessful missions and wasted time.
The subsea vehicle will also benefit from knowledge of the current speed and direction at their work site post-deployment. ROV pilots can use information from the vehicle's DVL to determine if conditions are safe for work to commence and continue.
Adaptive algorithms increase near-bed accuracy for DVLs
Users can benefit from extended range not only higher in the water column, but also closer to the seabed. Nortek is improving its DVL technology to enable ROVs deployed in deeper waters to maintain accurate bottom tracking very close to the bed – for example, during pipeline and/or cable surveys.
Lower-frequency DVLs have historically struggled to maintain accuracy at close range, because the blanking range, the area closest to the sensor where reliable bottom lock is not possible, is larger.
"What we've done recently is change the way the pulse is processed. This allows us to approach and get very close to boundaries with no loss in accuracy of velocity estimates. This means that if we deploy an ROV in, say, 150 m water depth, it can keep bottom lock as it approaches the seabed, and it can then adapt how it processes the pulse to operate close to the seabed. This versatile bottom tracking optimizes performance through the water column and provides much better near-bed navigation," says Findlay.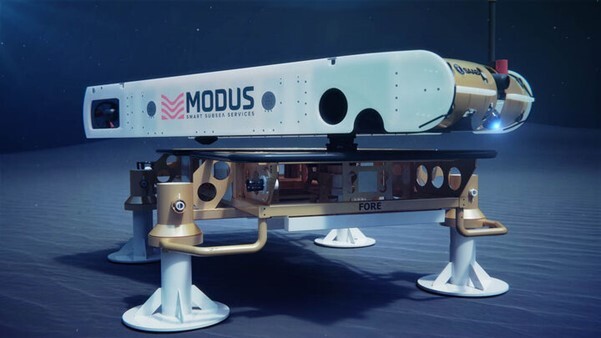 Offshore survey contractor Modus Subsea Services Ltd chose to use Nortek's DVL500 Compact to help maintain navigational consistency for their subsea vehicles while proving resident autonomous subsea vehicles' capabilities.
Improving the speed at which a DVL can switch from regular bottom tracking to near-boundary tracking has other uses as well.
So-called resident ROVs, increasingly used on windfarms, may be deployed on site for months, but they sometimes need to dock in an on-site "garage" to recharge or to transmit data. That involves moving from normal seabed bottom tracking to very short-range bottom tracking when they enter the garage. To further complicate the task, the vehicles need to remain accurate if the enclosure is formed (as it often is) of metal grilles, which provide an intermittent surface with which some DVLs can struggle.
"We've tailored our adaptive algorithms to enable switching between bottom tracking ranges fast. This allows a vehicle to slowly enter a docking garage at very low altitude," says Findlay.
Learn more about autonomous docking of resident subsea vehicles using Nortek DVLs.
Seamless integration with industry-accepted ROVs
Nortek is also successfully working with subsea vehicle manufacturers to customize its sensors for specific tasks. A collaboration with TechnipFMC has added the option to add a Seanet connector to a DVL500 Compact. Nortek's enriched binary data format has been qualified with TechnipFMC's control software, allowing users to seamlessly integrate with new and existing TechnipFMC work-class ROVs and many others.
Use on unique applications, such as USVs and diver navigation systems
The Compact DVL series can also be used on USVs as a reliable navigational backup in areas where GNSS access is denied, such as near offshore wind turbines or under bridges. The extended range allows operators to transit in and out of deeper waters without any loss of bottom lock.
Find out how SEA-KIT have integrated DVLs on USVs for robust navigation capabilities.
The DVL500 Compact has also been used in diver navigation systems, where there is a greater emphasis on minimizing size while still maximizing operational range. By integrating the DVL into an underwater module, special forces divers unable to surface for a GPS lock can still rely on dead reckoning navigation from the DVL.
Read how Blueprint Subsea have been offering optimal navigational performance for diver sonars through Nortek DVLs.
Pushing the envelope in subsea navigation
By creating compact, high-performing DVLs, Nortek is providing users with sensors that give highly accurate measurements in a wider range of conditions, saving users vehicle payload and redesign costs. Unique and innovative features ensure safe and successful missions. Nortek continues to enable the development of smaller and more capable subsea vehicles.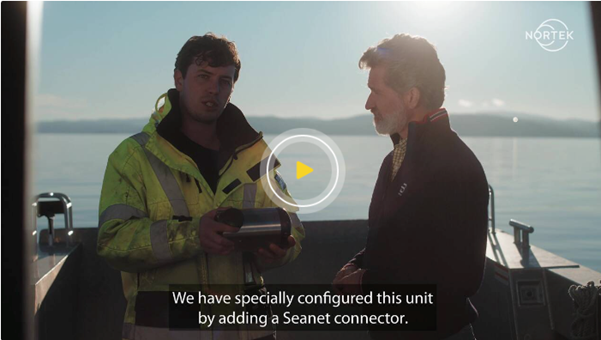 Click to watch video: What is the Schilling version of Nortek's DVL500 Compact?