Helping the rapidly expanding USV sector strengthen data collection capabilities with ADCPs
Oceanographic measurements from Uncrewed Surface Vehicles (USVs) are opening new possibilities, and these innovative measurement platforms are pushing in-situ data collection capabilities beyond the norm. Which aspects must users keep in mind as the industry starts to deploy these new vehicles?
Uncrewed Surface Vehicles (USVs) operate from the sea surface to gather data remotely over large survey areas. In addition to scientific applications, USVs are used in a wider range of survey support operations, making them viable alternatives to crewed vessels.
Development of USVs is occurring globally, but recently the UK has seen some of the most rapid growth and diversification in USV technology in the world.
As USVs become more advanced, so does the scope of applications, creating a vast array of design types and capabilities.

By interfacing Nortek's DVL500 with an Inertial Navigation System from iXblue to provide speed over ground measurements, SEA-KIT were able to equip their 12 m USV Maxlimer with an alternative to satellite navigation.
For example, working inland and nearshore, USVs like HR Wallingford's 2 m ARC boat are used extensively to study river discharge and flood events. In coastal and ocean environments, medium-sized ocean data gathering USVs are becoming the platform of choice for ocean scientists. More recently, USVs have been scaled up to offer true, work-capable systems, such as SEA-KIT's 12 m X-class USV.
Supporting innovation in the USV industry with acoustic Doppler technology
One technology that is expanding the capability of USVs is vessel-mounted acoustic Doppler current profilers (ADCPs). Since the release of the Signature VM package in 2018, Nortek has actively supported innovation in the USV industry by enabling top-of-the-range current profiling survey capabilities.
Users of the Signature VM range value Nortek's technical expertise and advice when supporting novel projects.
"Nortek's experience informed best practice for us – the best mounting location, reducing interference, testing and trialing to optimize the use of the system ... We'll continue to work very closely to make sure we're using the system to its best," says Gabriel Walton, Technical Director at Ultrabeam Hydrographic.
Thus, a collaborative approach has led Nortek to develop vessel-mounted ADCP solutions that are highly capable and flexible enough to cope with the challenges associated with uncrewed platforms.
What challenges and differences must be addressed when using USVs for data collection?
Essential to all vehicles used as data collection platforms (for example USVs, ROVs and AUVs) is ensuring that data quality isn't compromised despite a change in deployment method. After all, data is the ultimate deliverable of surveys.
But ensuring the data quality is not a simple task, as USVs differ from crewed vessels in several ways:
1. Communications & telemetry
Remote wireless connections are required: Removing crews from vessels improves operator safety and reduces greenhouse gas emissions. However, without a crew on board a vessel, remote wireless connections are required for sensor operation.
Users prioritize low-bandwidth telemetry techniques: Remote wireless connections require data transmission to shore, which can be costly, meaning users prioritize low-bandwidth telemetry techniques.
Need for stable remote connections and flexible data outputs: Sensors, such as ADCPs, need robust remote connections and flexible data outputs, with the option to store raw data on board.
Nortek supports remote operations through its customized Signature VM software. With lower processing power requirements than a standard Graphical User Interface, it can be controlled from any location, providing the user with a fully integrated survey control platform.
2. SWaP (Size, Weight and Power)

Sensors need to be efficient and multifunctional: Historically, most of a vessel's size has been used to keep a crew safe and comfortable. As this space is no longer required, USVs have become compact and portable, leaving less space for sensors.
Sensors need to consume less power: Operating on battery or hybrid propulsion – often augmented with renewable energy sources – means that many USVs have constrained power budgets, thus limiting mission duration; this is a key parameter that must be maximized.
Nortek's Signature VM range is based on one of the most advanced Doppler processing platforms available. Nortek's patented ADCP platform provides users with significantly smaller and lighter sensors that consume up to 50 per cent less power than their predecessors. This platform also facilitates faster sampling rates and processing capability, meaning users can perform a greater variety of measurements from a single platform.
"Five years ago, we had to use larger ADCP units. Since then, Nortek has produced very compact, very portable, high-accuracy systems which do exactly the same job," says Gabriel Walton, Ultrabeam Hydrographic's Technical Director.
"It's the best form factor of any ADCP available for that specification," Walton adds.

Click here to see how Ultrabeam used the Signature VM in their project.
Nortek's Signature1000 vessel-mounted ADCP interfaced with Ultrabeam Hydrographic's amphibious survey vehicle.
3. Integration

Adaptable sensors that support fast deployments: The ease-of-use and portable nature of USVs enables them to be quickly deployed at short notice, ensuring that short-term events such as floods can be monitored. Often, there is little time available to integrate multiple sensors and minimize interference between them. Therefore, such technology needs to be simple to install and operate, yet flexible enough to interface with multiple vehicle designs.
Nortek's Signature VM range is a tried and tested plug-and-play solution that reduces the amount of time required to integrate the necessary sensors and ensures compatibility.
"The instrument was set up and running in the same morning and then it was demobilized quickly upon completion. These are important things. Most of our USVs are multi-purpose USVs. The ability to be able to mobilize and demobilize equipment for specific surveys is desirable," says David Hull, CEO of HydroSurv.
Click here to see how HydroSurv's USVs play an important role in sustainable marine operations.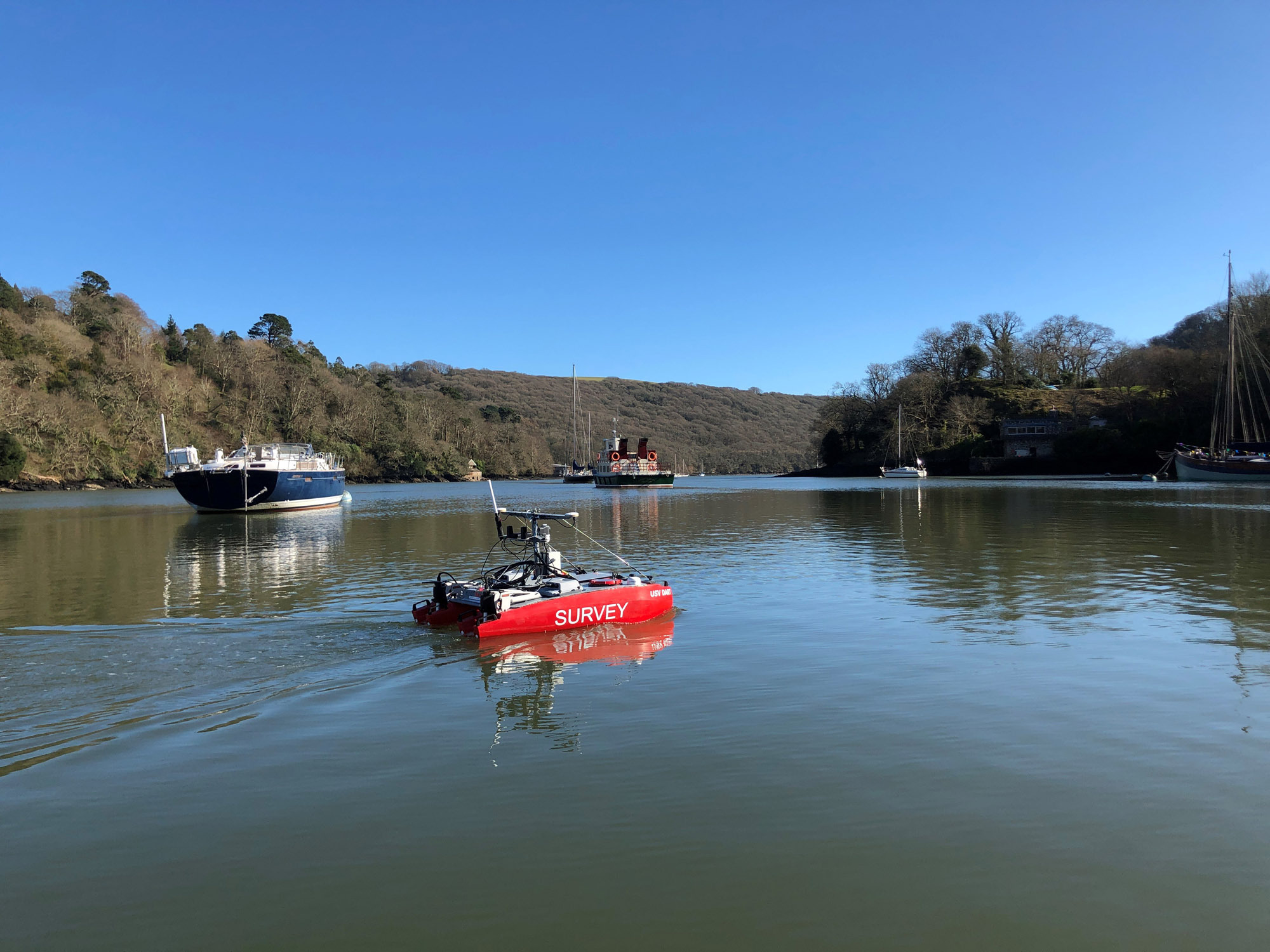 HydroSurv's REAV-16 USV performing ADCP transects across the River Dart in Devon, UK.
USV technology making it possible to rethink oceanographic data collection
The rapid growth and diversification in USV technology is creating opportunities to improve and rethink the way in which we collect oceanographic data. By collaborating with those who are pioneering new technologies, we can provide optimal solutions that make working in our marine environment safe, simple and sustainable.
To explore our range of solutions suitable for your surface vessel, visit our Signature VM product page, or contact us to discuss your technical requirements.