History
The ocean has always been close to the heart of Nortek's founder, Atle Lohrmann. He spent a major part of his childhood at sea, even living on an oil tanker as a toddler, so it was a natural progression for him to go on to study oceanography at the University of Oslo.
This academic background, together with Lohrmann's love of applied mathematics and problem-solving, formed a perfect combination for his subsequent roles in the ocean science industries.
Nortek's founder, Atle Lohrmann, in conversation with Nortek field engineer Tom Christian Ambrosius Mortensen.


His first position in the industry was as a research engineer at Det Norske Veritas, a marine classification and certification organization. It was while working there that Acoustic Doppler Current Profilers (ADCPs) caught his attention, due to long nights spent analyzing data from Exxon's Odin platform in the North Sea. Before long, he was recruited by Doppler specialist RDI and moved to San Diego, California in 1989.
"The early 90s was a time of dynamic technological development at RDI, and the organization hosted a wealth of very talented people. You could sense a very tangible enthusiasm for the possibilities that lay within this type of instrumentation and technology. A lot of what happened in the industry in the following two decades was based on ideas whose seeds were sown in this period," Lohrmann recalls.
Over time, Atle Lohrmann and Ramon Cabrera, a lead engineer within RDI, set up a daughter company, RD Flow, to better serve a major surveying project on closed channels and tubes for Thames Water Utilities. It became apparent that RD Flow needed to expand its product offerings to include open channels if it was to secure increased future revenue and growth. This didn't coincide with RDI's strategy, so Lohrmann and Cabrera left the company in 1992 to set up SonTek Inc., an independent company with a focus on developing new possibilities for Doppler technology.

The ocean has always been a focus for Nortek's founder, Atle Lohrmann.


Working with visionary scientists and public servants
SonTek's first project was a research and innovation project for the U.S. Army Corps of Engineers. At this time, Lohrmann and Cabrera had the privilege of working together with oceanographer Dr. Nicholas Kraus, a visionary U.S. public servant and scientist, who became a mentor for SonTek.
"Nick Krauss' dedication to his work generated a lot of passion and enthusiasm among the people close to him. He was great with people, a good communicator and very generous. You wanted to walk that extra mile for him—and I have to say that, contrary to popular belief, you can actually find quite a few people with a similar dedication and passion in the U.S. federal bureaucracy," Lohrmann affirms.
The collaboration quickly resulted in a prototype for an Acoustic Doppler Velocimeter (ADV) for use in hydrodynamic research in laboratories. The first nine instruments were shipped in October 1993, and the company grew quickly.
Exciting but challenging times in the mid nineties
In the following year, SonTek started the development of ADCPs, providing an alternative to those produced by RDI, which had a near-monopoly on the market for this equipment. SonTek launched its first ADCP in 1995, although this was not without its challenges, as several other companies around the world were launching similar instrumentation during that time.
Atle Lohrmann moved to Denmark in autumn 1995 to set up SonTek in Europe. However, it became clear that it would be more efficient to set up a separate independent company in Europe, so Nortek was established as a standalone company in March 1996—a move that signaled a breakup of the partnership between SonTek founders Lohrmann and Cabrera.
In 1996–99, Nortek and SonTek operated under a mutual agreement, sharing resources and selling the same products in different markets. Nortek did business primarily in Europe and Asia, while SonTek operated mainly in North and South America. After that period, there was no formal relationship between the two companies, and, with time, there was a divergence between the hardware and software for instrumentation supplied by the two companies.
Nortek staff preparing pressure-testing of an ADCP.


A period of ground-breaking innovations

In 1996, Nortek set up offices outside Oslo, Norway, and started building up production capacity for the instruments that had initially been developed at SonTek. But the company also started developing new technology that would enable users to explore fresh opportunities with Doppler technology. The company's first unique product line was the Aquadopp current meter, based on the Paradopp electronics platform. The first Aquadopp was launched in 2001, soon to be followed by the Aquadopp Profiler. In 2002, the Vector velocimeter was made available, also based on the Paradopp platform. Then, the release of the AWAC in 2003 revolutionized the measurements of wave height and direction. A period of rapid revenue growth followed.
In 2007, the Vectrino velocimeter was launched, replacing the ADV first developed during the SonTek years.
Lill Paulsen's role as director of finance and administration in the period of expansion and innovation that started in 1996 was essential to the well-being of the company. Paulsen's efforts contributed greatly to making Nortek a financially sound and sustainable organization. Other key employees in this early phase were mechanical design engineer Thore Thoresen, software engineers Sven Nylund and Øistein Hurum, production manager Arild Olsen and sales engineer Ketil Horn.
In 2010, Nortek engineers started internal work on developing an innovative broadband ADCP electronics platform, which was named AD2CP. This led to the launch of a series of groundbreaking new ADCPs as part of the Signature product line. These instruments have helped oceanographers significantly narrow the gap between the measurements they so desire and what is physically possible to achieve. Our motivation is to be limited only by physics and our own imagination.
One of Nortek's production technicians holding an Aquadopp ADCP.

What's behind our success?
Nortek has grown rapidly, its turnover increasing from NOK 9 million in 1996 to NOK 255 million in 2018.
Many factors lie behind the company's success, among them the high standard of its instruments, its ability to deliver on schedule, and the professionalism and expertise of its employees.
Our development engineers have the capability to set the agenda for the sector, expand the spectrum of product categories and define innovations that open up new possibilities for users.
Another major contributor to Nortek's success is its distribution network. Significant resources have been invested in recruiting sales and support personnel across the globe who work exclusively with Nortek products. This exclusive focus gives our sales and support network deep insight and competence with our technology.
What lies ahead?

Nortek now has a very solid technological foundation, and our vision is to expand the ways in which our technology can be used. We want to enable users in completely new areas to take advantage of the technology we have designed and refined. We are particularly excited about how it can contribute to global resource management, in terms of both food and energy.
"Being the first mover is a thrilling thing. Personally, I am motivated by the opportunities that arise when you continually change things to improve the status quo," says Atle Lohrmann.
He adds that Nortek must be a place to find people who infuse dynamic energy into processes to make sure this improvement actually happens.
At Nortek, we feel that continually striving to improve is essential, so that we can make a valuable contribution to the world, to science and to society.
That's our plan for the future.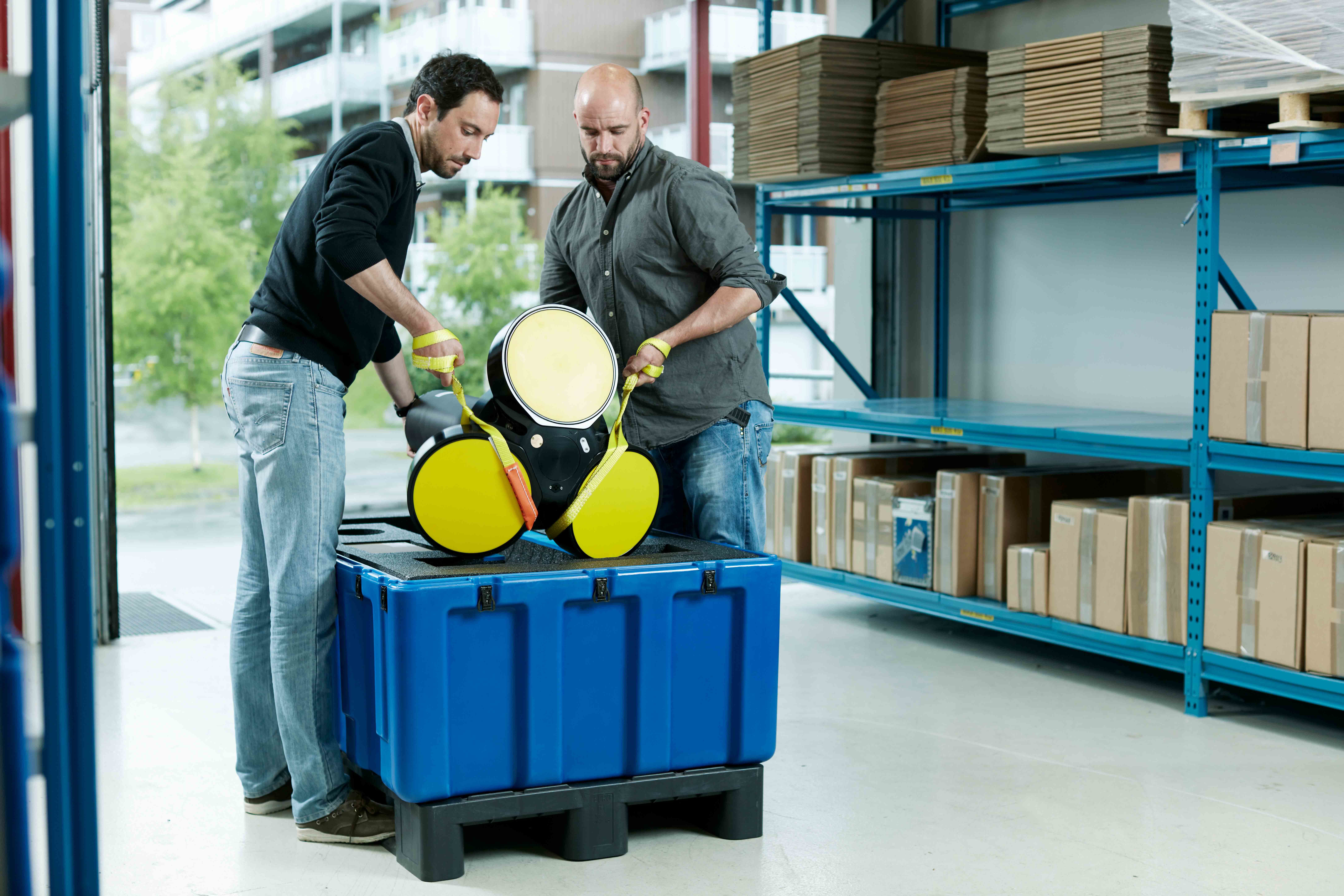 Nortek staff preparing shipment of a Signature55 ADCP.