Nortek's Claire Cardy wins industry award at Ocean Business 2019
Nortek's talented and hard-working UK Director, Claire Cardy, won the SMI Marine Science & Technology Business Person of the Year 2019 Award. Congratulations, Claire!
The award is designed to recognize the individual who, in the opinion of the adjudicating panel, has made a significant contribution to the business of marine science and technology in the UK.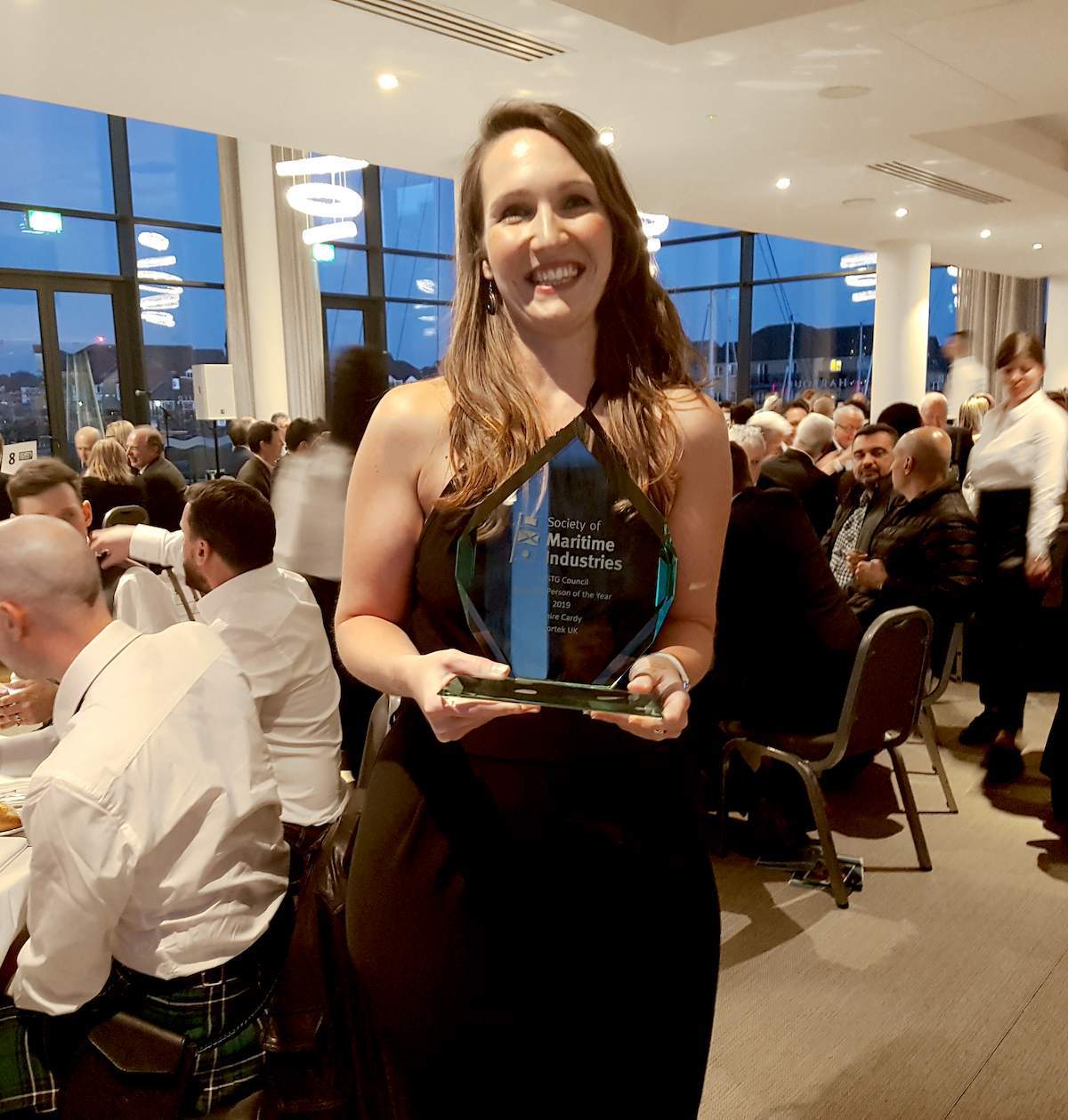 The biennial Marine Science & Technology Business Person of the Year Award was presented on April 10, 2019 to Claire Cardy, UK Director of Nortek UK, by Mr. Terry Sloane, Chairman of the MSTG Council of the Society of Maritime Industries. The presentation was made during the Ocean Business Gala Dinner.

The MSTG Council Chairman, Mr. Sloane, comments:
"It is gratifying to see that the winner of the MSTG Business Person Award for 2019 is not a business owner or entrepreneur – which is the usual winner profile – but someone who upon joining an established organization has, through their creativity and dedication, made a measurable difference to the performance of that business."
"Claire's commitment to participate in industry groups such as the SMI MSTG Council, MATS Delivery committee and support of the IMarEST early careers group and other groups is noteworthy and has surely contributed to the growth of her UK business. Claire is a worthy winner of this award by any measure, but it is especially encouraging to see another lady making an impact in what is still a male-dominated industry."
Showcasing that Nortek is more than just "sales"

"Over the last year, Claire has actively presented Nortek's work at many conferences and exhibitions, demonstrating that Nortek is an innovative company that prides itself on providing technological solutions and not just 'sales'. She has also reached out to the wider MST community via her work with schools, SMI, SUT and the Hydrographic Society," says Nortek's Chief Commercial Officer, Ronny Johnsen.

He emphasizes that as a result of Claire's initiative to more actively support the marine oil and gas sector with our latest products, she has contributed to the busiest start of the year in Nortek globally in 2019. We are proud to have Claire as part of the Nortek team.
The UK marine science sector is a vibrant industry epitomized by enthusiastic and successful entrepreneurs and innovative engineers whose expertise has created leading-edge technology supported by world-renowned research institutions.
The Society of Maritime Industries (SMI), through its council, invites nominations for this prestigious award to recognize an individual who has made a significant contribution to the business of the marine science and technology sector in the UK.
This now biennial award is presented at one of the major UK trade shows for the marine science and technology sector, Ocean Business.
The Society of Maritime Industries is the voice of the UK's maritime engineering and business sector, promoting and supporting companies that design, build, refit and modernize ships, and that supply equipment and services for all types of commercial and naval ships, digital technology, ports and terminals infrastructure, offshore oil and gas, maritime security and safety, marine science and technology, maritime autonomous systems and marine renewable energy.